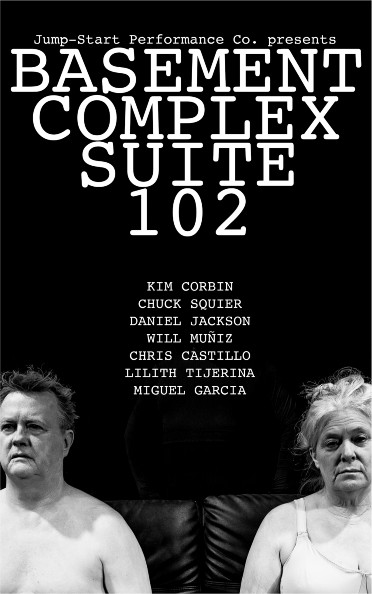 Created by Daniel Jackson
In Collaboration With
Kim Corbin
Chuck Squier
Will Muñiz
Miguel Garcia
Chris Castillo
Lilith Tijerina
Kyle Gillette
Rachel Joseph
BIOS
Chris Castillo
helps make art and music. He has a background in journal- ism, photography, art history & criticism, and library science. Castillo began taking piano lessons at age four and was never once considered a musical child prodigy. Castillo's previous musical endeavors include playing various electric pianos, keyboards, and organs in bands including Wilton, Dramame- ter, and Babycakes.
Kim Corbin
is a Jump-Start company member.
Daniel Jackson
is an artist and designer working primarily in live perfor- mance and installation contexts at the intersection of technology and interac- tivity. Daniel has worked with The Wooster Group, Young Jean Lee, Radio- hole, and most recently Andrew Schneider. Daniel holds an MFA in Interac- tive Media for Performance from The California Institute of the Arts and a BA in Drama from Stanford University. He is a Jump-Start company member.
Will Muñiz
is an artist, a cook, a bartender, and a handyman. He's been a friend and a fan of Jumpstart for over 20 years. This is his first time perform- ing. "Two years ago Daniel was in town visiting. He and I were over at the Annex, you know, having drinks, carrying on, and he says, 'Hey! If I write a play, do you wanna be in it!?' I said 'Sure', and here we are." Will is single and enjoys miniatures and spicy noodles. He's also a Gemini and he has titanium hips. Will lives and works in San Antonio, Texas.
Chuck Squier
has played with Jump-Start since its inception as a performer, director, playwright, board member and janitor. He has actually experienced things that go bump in the night and appreciates new ideas in performance. He's also working on a character-driven work for next June- GAYLORD'S LAST HAPPY HOUR.
Lilith Tijerina is a is a multi-disciplinary artist pursuing a career in perfor- mance art, lighting design and acting. Her work involves social justice and activism. She attends Texas State University's BFA in Theatre, Performance and Production program.
MIL GRACIAS
Pamela Martinez, Sheila and David Currie, and Lonnie
Our mission: Jump-Start Performance Co. is dedicated to the discovery and support of new ideas in the arts and arts education. By encouraging visionary thought and non-traditional approaches, Jump-Start is committed to the creation of art that is a lasting voice of diverse cultures and communities.
Basement Complex Suite 102 was made possible in part by a Kickstarter campaign that was successfully funded thanks to contributions from April Trovillion, Sheila Sisler-Currie, Laurie, Chuck Squier, Eli Peterson, Arthur Alvarez, Daniel S., Jon Hinojosa, Kennedy Campbell, Marcela Landres, Anthony Gauna, Chris Jackson, Tom Copeland, Jaron Kie, Jamie Poskin, Sandra Garner, Bob and Madelyn, Robert Moritz, Rowan Doyle, Linda Jackson, Ryan Hebert, Gustavo Garcia, Connie Laredo-Zepeda, Kimberley Corbin, Sandy Dunn and Paul Harford, Jesse Mata, Laura Ward, Abel Ramirez, Sarah Tijerina, Lea Jackson, Lilith Tijerina, Michele Brinkley, Barnaby Costlewiner, and Susie Monday.
Jump-Start Performance Co. acknowledges with gratitude the following funders: City of San Antonio Department of Arts & Culture, Texas Commission on the Arts, National Endowment for the Arts, G.A.C. Halff Foundation, Alice Kleberg Reynolds Foundation, Elizabeth Huth Coates Charitable Foundation, King William Association, Endeavors Inc.,and our many individual donors.